Part #1: Redesigned reports and 30% discount
Part #2: Log files caching
This is a third part of Version 3.0 Sneak Peek series, but this time you can try it yourself:
Version 3.0 beta is ready for download
Page tagging / Hybrid analysis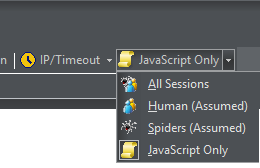 One of most important additions is page tagging feature (so-called "hybrid" analysis). Basically, major drawback of using log analyzers instead of script-based analytics is eliminated now, while keeping all benefits. In addition, by using Web Log Storming's scripts, there is no contact to third-parties – all data stays on your server and your website loading speed won't be affected much, almost not at all.
"Early Bird" 30% discount available until official release
As a special promotion, you can use this coupon for 30% discount:
WLS89445EARLYBIRD
The coupon applies to any purchase (new license or an upgrade) and will be valid until v3.0 is released.
We are keen to hear your comments.