Web Log Storming v2.2 is now available for download. Changes in this release include several small new features, improvements and bug fixes.
New option for file reports: Add to Global Filters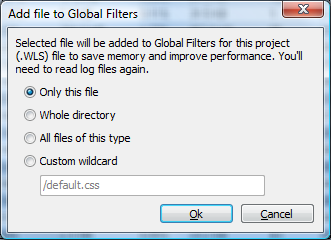 Now you can more easily add unnecessary files to global filters (see "Improving performance" suggestions). To use it, view any of file reports (pages, files, images, directories, etc), see which files take lot of hits that doesn't affect your stats (style sheets, logo images, etc), right click on them and choose "Add to Global Filters" option. Next time you read log files these will be excluded from reports.
New option: Manually Edit Host Name
This one is available in Sessions, Domains and Session Details report. You can now change visitor's domain name to any text you like, so instead of having something like qwerty123456.domain.com, you can describe visitors as My home network or Important customer.
Introducing two editions: Standard and Professional
If you don't need some of options, you can now buy less expensive Standard edition of Web Log Storming. Currently, Standard edition costs $119 (US) while Professional remains at the same price point ($189). Removed features include goals, host resolving, exchange options (export, print, send by e-mail, …), some reports, etc. For full list of differences please refer to this page.
Upon start, users who are evaluating trial version can choose which edition they want to try out. Existing customers won't notice any change from this as all of you already have Professional version.
Other changes
Other less important  improvements and bug fixes.
Links:
Web Log Storming home page
Download an update
Compare editions