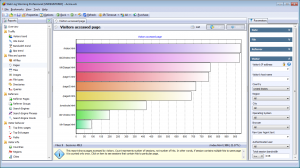 We are happy to announce that Web Log Storming 3.0 is out of the beta and available for download. We want to thank all who provided a valuable feedback and contributed to improve it during testing phase.
Changes from v2.9 are numerous and include Hybrid analysis, several new reports, log file caching, number of various usability and aesthetic improvements, etc. For more detailed explanation of most important additions, you can check What's new page.
As usual, the update is free for all who purchased in last two years (after March 29th, 2013) or those with a Lifetime license. Others should use an in-application button to get to the subscription extension form.